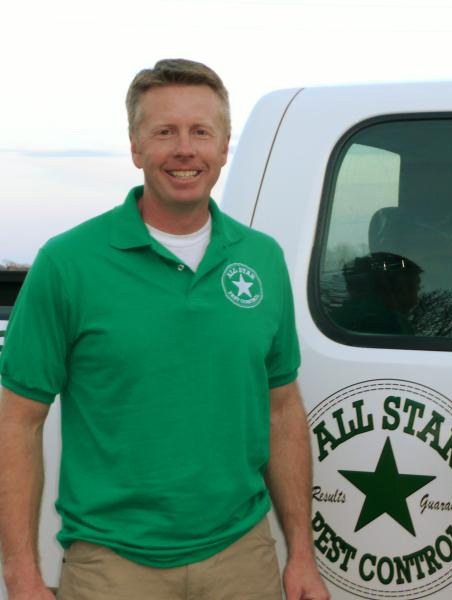 Hi, I am Darren Waltman. I come from a 'pest control' family, in that, many of my family members own and have started pest control companies which offer services in many cities throughout Oklahoma, Arkansas, Alabama, Missouri, Texas, Idaho and of course Kansas and Nebraska. In 2009 I started All Star pest control and we offer the best value and the best bang for your buck. My commitment and my company's commitment is to offer more value per dollar than anyone else. In fact, every year we meet people who are with other local company's, and when they discover our service they switch and start using us.
Our representatives, technicians, and entire staff will always be polite, clean cut, well spoken and respectful. We are a high class company that charges unbeatable prices. For example, on the outside of your home we provide a 8 foot barrier as well as an eve service which will remove cob webs and other insect debris–this keeps your home looking nice and saves you the hassle of doing it on your own. Unlike many of our competitors, we use power sprayers, which means that your home will have a better and longer lasting treatment agains all kinds of insects.
In our regular service package, we offer treatment for spiders, pretty much all kinds of local insects, and mice. We have packages that cover termites and another package that can treat bedbugs. We can also put down repellents for snakes. In-laws are not included. My commitment is to provide an outstanding service, customer experience, and guarantee and my promise is to do all of those things at price that is unmatched. Choose me, and choose All Star, and you'll be glad you did.