•Wasps

•Scorpions

•Pill Bugs

•Spiders

•Silverfish
Ants
Ants are fascinating little bugs, unless they are in or near your home, and then they quickly cross the line from fascinating to exasperating. With potentially millions of individual ants in a single colony, many a non-cussing person has be tempted to use quite colorful language when battling ants. Ants just keep coming back and back and back.
Well, fear not. Ants are no problem for the All Stars. We diagnose and identify the type of ant and then use specialized products that will work for that specific species. The reason that many people get frustrated trying to treat ants by themselves is because they use the wrong baits or the wrong deterrents. If you want a simple, quick and guaranteed solution, leave it to the All Stars. No matter what kind of ant you're dealing with, we can handle it. Give us a call hassle no more with those ants. 316-425-6040
Fleas
Flea Treatment
No one likes fleas. We can treat your yard and the area around your home with the best products available which will greatly reduce the ideal habitat for fleas. If your pets have had fleas we strongly recommend that you have that animal treated by a vet. Synchronized pet and yard treatment will be far more effective then just one treatment alone.
Regular vacuuming
Regular vacuuming can also help us dispose of flea adults and especially eggs–which can sometimes be resistant to our products. Simply walking on the carpet can create enough vibration to hatch eggs and begin their development into adulthood. The more you vacuum the better. We recommend that you vacuum at least daily and dispose of the vacuum bag frequently. Wash all bedding, clothing, and washable upholstery. These items provide an ideal breeding environment, leaving fleas undisturbed even after treatments are complete, creating future infestations.
Products
We apply products that are extremely effective, maintain long residual effect and are safe for pets and humans. We normally perform a blanket application including all carpet, drapes, and any upholstered furniture that can't be washed, as well as an outside barrier treatment.
Help us Help You
When we treat your home, we will also share with you some things that you can do to ensure the effectiveness of the treatment. Pest control works best when both the pest management experts and the homeowners work together. Also, it is not uncommon to see increased activity after treating infested areas, so please be patient and give our products a chance to work for you. Call today to get started: 316-425-6040
Roaches
Roach Treatment: So everyone has heard the fact that cockroaches would survive a nuclear holocaust. While that fact may or may not be true, cockroaches are very hardy, and persistent insects. Also, cockroaches live in groups, so if you see one, you can be pretty certain there are many others. IT IS ALWAYS BEST TO USE A PROFESSIONAL WITH ROACHES.
Also whether or not cockroaches would survive a nuclear blast, one thing you can be certain, they won't survive the All Stars when it comes to pest control. When we treat your home, we will assets the situation and then execute an effective elimination strategy. We will also help you understand what you can do in order to ensure the success of the treatment.
Roaches have one of the fastest life cycles of any bug in Kansas. One Roach can multiply EXTREMELY FAST. So don't wait, call us today and lets get these things out of your home and out of your life. 316-425-6040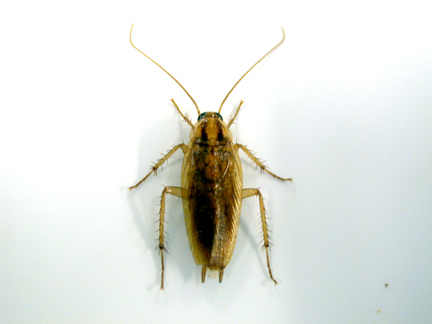 •Wasps
•Scorpions
•Pill Bugs
•Spiders (including the recluse)
•Silverfish