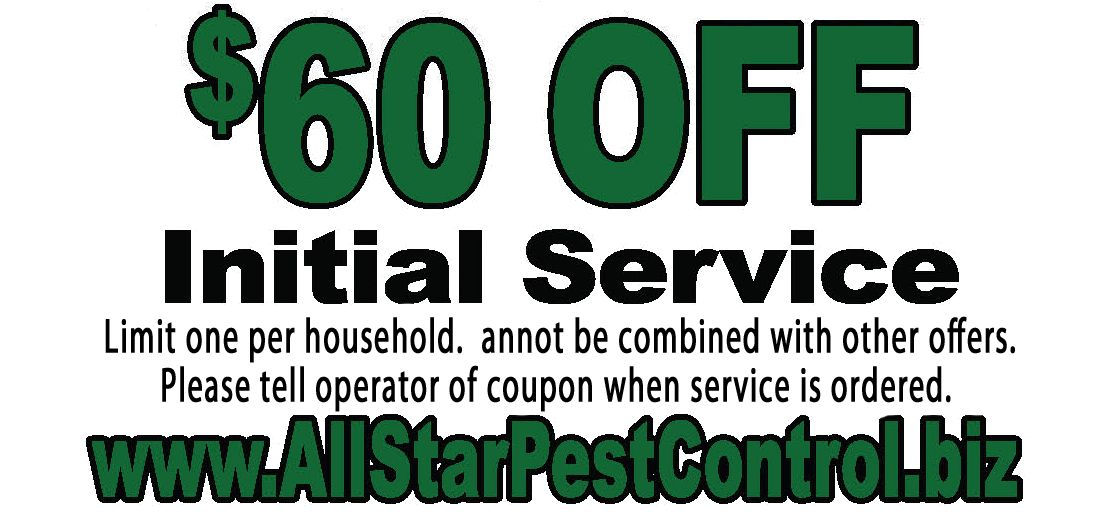 For a FREE Quote:


You don't have to live with Bugs! We have the best pest control Wichita has to offer.  Use the pest control All Stars and never be pestered with bugs, snakes, or rodents again.  We use safe, pet & environment friendly products that provide a residual effect. This means that each time we treat your home, there will remain a lasting barrier that stops bugs for about 3 months depending on weather and temperature. The first time we treat  your home, we will create a barrier on the outside of your home which stops any would be invading bugs. We use a power sprayer which allows us to apply a very robust and impenetrable barrier on your home's foundation, eves, patios and several feet out from your home. Unlike many faster-is-better companies, we take the time to use an eve sweeping tool to remove cob webs, wasps nests, or other pest debris that may have built up on your eves or patios.
Then on your home's interior, we use a very clean system of pest control;  We don't just willy nilly apply products and make a mess of your home. We strategically apply pest control products to areas where bugs invade and then frequent, these areas include baseboards, pipes, window seals, door ways, attics and other points of entry. This inside/outside service is called the initial service, its a very thorough treatment that will flush out the bugs and the pest that are already entrenched in your home, in your walls, your siding, the cracks and crevices and other places that you don't see.
We typically do a follow service about 30 days after the first initial service. The first service flushes out the pest and then a follow up service 30 days later is extremely effective in breaking down the life cycles of spiders, ants, roaches, wasps, and pretty much any other bugs we have in the Midwest.
For most homes, after the initial and follow up service we typically only need to come back once per quarter. This is true for most homes we treat and will effectively eliminate pest in and around your home. With that said, there are some pests and some infestation that require a more aggressive treatment plan–these could include bed bugs, termites and some cases of roaches. For highly severe infestations we will recommend a different treatment plan. However, for 95% of our customers, this preventive treatment plan that I just described, which includes an initial service followed by a 30 day follow up, and then quarterly maintenance services is the treatment plan of choice. This plan is very affordable, its non intrusive, its safe, and its very effective.
Give us a call and  I promise that your home will be bug free guaranteed. Call us–you'll be glad you did.